About
The Los Angeles music climate of the late sixties and seventies was characterized by the heavy sounds and sentiments that reflected the revolutionary attitudes of the generation. Bursting onto that scene was Iron Butterfly, whose sound not only epitomized the hard attitudes of the youth with its heavy drumming and bass lines, but also embraced more delicate aspirations through its intricate guitar and keyboard overlays.
Iron Butterfly was signed to ATCO records (a division of Atlantic Records) and released their first album, aptly titled "Heavy".  While the band was on the road with the likes of: The Doors, Jefferson Airplane, The Grateful Dead, Traffic, The Who, and Cream, their impressive debut stayed on Billboard's album charts for almost a year!
They followed up with the monumental LP, "In-A-Gadda-Da-Vida", featuring the 17:05 minute side-long track that shook the entire music industry with its phenomenal reception. 'Vida outsold every record in the history of recorded music within the first year of its release and therefore outgrew and outsold the standard of the music industry's "Gold Album" award.
For this achievement, Iron Butterfly was subsequently awarded: The Industry's Very First "Platinum Album"!   "In-A-Gadda-Da-Vida" stayed on thecharts for 140 weeks, with 81 weeks in the Top Ten! To date the album has sold in excess of 30 million copies and remains an undisputed classic in the archives of rock with DJ's and audiophiles worldwide!
Within a year of releasing "In-A-Gadda-Da-Vida", Iron Butterfly had charted a third album, "Ball", – which surpassed "Vida" (still in Billboard's Top 10) turning "Gold", and climbed to No.#1. "Ball" remained on the charts for 44 weeks, followed by two more album releases – "Live", and"Metamorphosis",  each charting respectably in the Top 20!
AWARDS
*Silver Album Award      *Two Gold Album Awards     *Two Platinum Album Awards
*4x Multi-Platinum Album Award     *Lifetime Achievement Award
*After Breaking All Sales Records, Awarded the Music Industry's First Platinum Award
IRON BUTTERFLY MUSIC HAS BEEN IN THE FOLLOWING MOVIES & TV SHOWS
American Horror Story (2013)  –  Hell Ride (2008)  –  Resident Evil: Extinction (2007)  –  House M.D. (2007)  –  Salvador (2006)
Criminal Minds (2006)  –  Supernatural (2005)  –  The Simpsons (2005 & 1994)  –  Tag World Grand Prix (2005)
Playboy: 50 Years of Playmates (2004)  –  Mission Hill (1999)  –  Pirates of Silicon Valley (1999)
The Sonny & Cher Story (1999)  –  Seinfeld (1997)  –  Baseball (1994)  –  Fatal Instinct (1993)  –  Home Improvement (1991)
Freddy's Dead: The Final Nightmare (1991)  –  The Wonder Years (1990 & 1989)  –  Manhunter (1986)  –  The A-Team (1986)
Pleasure Island (1975)  –  The Psychiatrist (1971)  –  Freeform (1970)  –  In For Life (1970)  –  Red Man Cometh (1970)
Iron Butterfly is touring and thrilling audiences worldwide with their High-Energy Show and performing all the Hits, like:
"In-A-Gadda-Da-Vida"   –   "Iron Butterfly Theme"    –    "Soul Experience"    –    "Easy Rider"      –  "Butterfly Bleu"
"Stone Believer"    –   "Soldier in Our Town"   –   " In The Time Of Our Lives"   –   "New Day"
and many, many more
---
The Band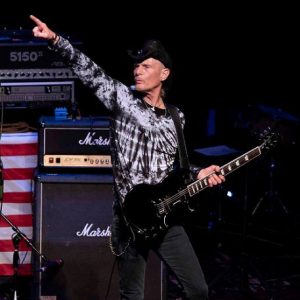 Eric Barnett
Lead Guitar / Vocals
Eric, current lead singer and guitar player, joined up with Iron Butterfly's Ron Bushy, Doug Ingle and Lee Dorman in 1994 through Derek Hilland, who was also in the band. Derek left for Whitesnake in 97, and Iron Butterfly continued touring as a 4 piece.
He remembers looking across the stage at Ron, Doug and Lee and thinking "I can't believe I'm up here rocking with my heroes".
Although Lee has passed on and Doug has retired, the current members are as solid as it gets and every performance is pure enjoyment.
Dave Meros
Bass Guitar / Vocals
Dave has over 30 years of experience touring internationally and recording with artists such as Eric Burdon and The Animals, Mark Lindsay (Paul Revere and The Raiders), Sugarloaf, Gary Myrick and The Figures, Spencer Davis, Robbie Krieger (The Doors), Glenn Hughes (Deep Purple), Bobby Kimball and Simon Phillips (Toto), and jazz fusion keyboard legend Brian Auger (Oblivion Express / Trinity), and also a founding member in the progressive rock band Spock's Beard, who have 13 studio CDs to their credit as well as numerous live CDs and DVDs. Dave first played with Iron Butterfly on a substitute basis in 2006 then became a permanent member in 2015.
Martin Gerschwitz
Keyboards / Vocals
A professional classically trained keyboard player/singer/violinist – as a keyboard player I toured the world for the last 30+ years with big bands like "Lita Ford" (opening for "Bon Jovi" for 5 months back in 1988/89), "Meat Loaf" (1989/90), "Walter Trout band" (1993 – 1998), "Eric Burdon & the Animals" (1999 – 2005), and last but not least "Iron Butterfly" (keyboard player & lead singer, 2005 – current) !!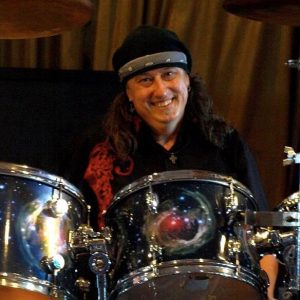 Bernie Pershey
Drums
Hailing from Joliet, Illinois, he started playing drums at the age of eight and has never stopped. We all welcome Bernie to our Epic Rock Band "Iron Butterfly"
Bernie's track record includes years of work with Eric Burdon and the Animals, Edgar Winter, Beth Hart, Walter Trout, Olivia Newton-John, Dwight Twilley, Greg Kihn, and Chuck Berry.
Michael Thomas Franklin
Keyboards
Michael is an American Grammy Nominated Producer/Musician.
As Music Director form Hard Rock Live, CBS and The Nashville Network, he was band leader and performed on more than 100 TV shows.
He has performed with Brian Wilson of The Beach Boys, Joe Walsh of The Eagles, Paul McCartney, Chuck Berry, Bo Diddley, Spencer Davis Group, Eric Burdon, Steve Walsh and Robby Steinhardt of Kansas, Dr Hook, Blues Image, Patrick Moraz of The Moody Blues, Members of The Allman Brothers, members of The Rolling Stones and many others.
Ray Weston
Drums
Ray will sub for Bernie as drummer for Iron Butterfly.
A 30+ year veteran of the British pop scene, he has played with such luminaries as Sir Tom Jones, Wishbone Ash, Bill Wyman and Robert Palmer to name but a few.
He started touring with Iron Butterfly in 2010 playing over 14 countries and will continue to be an intricate part of the band.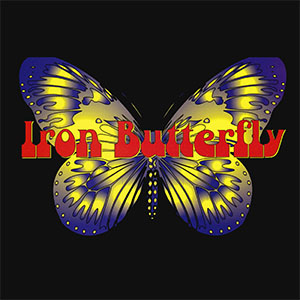 Former Members
Here is an update on the members who were on the first two Iron Butterfly albums.
Danny Weis – Guitarist – Still very much active in music and playing regularly around the Collingwood Ontario area
Doug Ingle – Keyboard, Vocals –  Doug currently is not performing live.
Jerry Penrod – Bass – Jerry retired a couple years ago after a career as a transit driver in California.
Ron Bushy – Drums – Ron is making a good recovery from illness and did a guest appearance with the band in 2018.
Darryl DeLoach – Vocalist – Darryl died in 2002.
Eric Braunn – Guitarist – Eric died in 2003.
Lee Dorman – Bassist – Lee died in 2012